Lucy Pawlak: The Halfway House
24.11.07 – 26.01.08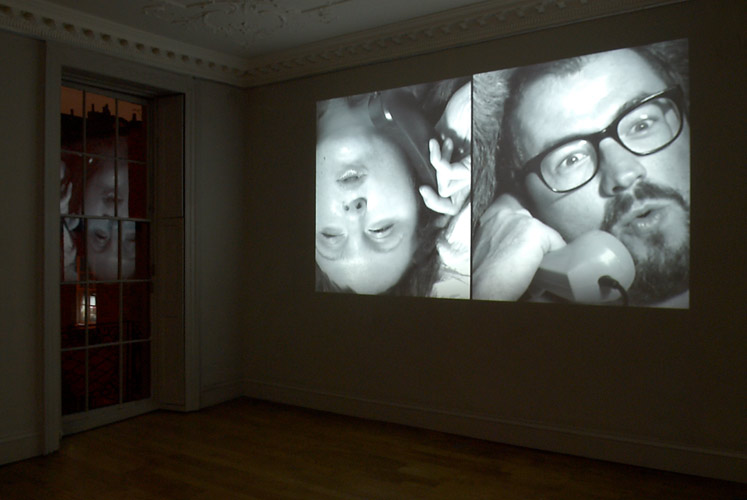 You are cordially invited to The Halfway House One thousand years ago tomorrow from a room between London and Warszawa with Lucy Pawlak and special guests Martin Clark and Ghislaine Leung.
The Halfway House is neither here nor there. It is not "now" or "then". It could be the inn midway between two towns (a service station or a travel lodge) or a house for prisoners crossing from inside to outside. It might recall absent rooms or present events passed.
The Halfway House at domobaal will consist of two filmed spaces; both are shot in and around a flat in Warsaw, Poland. The flat operates as a site for an ongoing series of collaborative projects Pawlak is involved in, as well as for her own film project.
"Here in Warsaw on Ulica Wspólna 71/9 I am surrounded by cracks and gaps, marks and loose wires, is this the beginning of my breakdown? The flat was previously an office – each wall has internet connection cords spurting from it, the ceilings are false and covered with plastic tiles – the signifier for 'office'. The light patches on the yellowing walls are the ghosts of spreadsheets and timetables. Everything is labeled 'high security' – the windows all have a sticker that announces S.M.A. SYSTEM MONITOROWANIA ALARMÓW and a phone number for a dial–a–vigilante service – I suppose it was full of computers once upon a time. The bars that are on every window don't seem to bother me. The alarm system flashes red and green and appears to be trying to decide between calling the police, the fire brigade or an ambulance. It only ever says it is 'ready', so far it has not flicked to 'ARMED' so I have resolved not to touch it – 'ready' seems preferable to 'ARMED'. Motion sensors are fixed in the corner of every room – the blank white faces gaze down at me benevolently and when I get out of bed at night a green l.e.d. blinks on and off. Amongst the flat's various stunning original features is a radiator that has crawled halfway up the wall, everyone says it is typical of communism – bad design and impractical, but I like it. Another original feature worthy of note is a soiled poster of the woods that had been stuck lopsided below the radiator. It seems deeply tragic but tinged with sweetness – the parting gift from the previous residents – "take this, you are going to need it…" My little apartment block crouches in the shade of the gleaming glinting black rectangle that is the Marriott Hotel, complete with Casino, Caviar, Panorama Bar on the 40th floor and Sushi Snacks."
In 'Scene One' (the first filmed space) we observe the private realm of Pawlak's made up family – Bearded Man, Naked Woman, Old Gentleman and Elderly Lady inhabit a shed in the darkest part of the Primal Forest. Seated within a kind of tableau vivant or thought out world, they might be observed like animals at a zoo. "I chomp, swallow and suppress a belch and suddenly you are conscious of the clock ticking. I sit alone at my desk, the radio is on across the courtyard; the sound of china plates against each other as they prepare Sunday lunch makes me feel alone. Someone is playing the piano on the top floor, the old lady above me shifts closer to the window. The sniffer in the concert hall, the horror when laughter turns into a snort, when do we notice such things? The awkward shapes formed by someone picking their way across a stream or anxiously weaving through traffic on a busy road, pushing through brambles and stinging nettles in the wood or people in a crowded room at a party, trying not to sink into the mud or slip on the bathroom floor, clambering up a steep bank or along a busy platform.
Pawlak is drawn to film's relationship to estrangement, fractured narratives and madness. Like an autobiography of numerous selves and others contained in one book, the individual is the embodiment of many subjects. There is a futility to all attempts at being master of the object of one's vision.
The film will form a part of Pawlak's one man band Hollywood project, in which she attempts to become director, producer, cast and crew rolled into one. This method imposes certain limitations on the filming process, for example the characters cannot actually touch one another. She plans to shoot 12 minutes of 16mm footage per year over the course of 12 years so as to achieve a feature length movie. She has completed the title sequence and is currently working on "Special Features" (a commentary or 'making of' in which the director reminisces about life on set, though he has not yet begun filming) as well as "Scene One" of the movie.
"Scene One" and "Special Features" will be available to purchase as a handmade anniversary DVD box set priced at £20.
"I live alone in 71/9 on the ground floor, my windows look out onto the communal courtyard. The fat lady with the dog made of 100% muscle smiles and waves at me. The caretaker asked if I had a boyfriend yet, she said I should have one, because my hair is so pretty; I think she is only saying this because she knows my hair was butchered by the Siberian Hairdresser who rents a salon at the front of the building, and she hopes to defend him. I nearly cried – he would not stop cutting. When he was a little boy his mother packed him off to train at the Bolshoi Ballet, but for some reason he had to switch to hairdressing instead. The old ladies like to hang out on the red plastic sofa in his salon. They all witnessed the scene – I only wanted a trim but he snipped away and tears started to prick my eyes, I ducked my head down and called out "Stop! Stop!" Actually it didn't look too bad but I started to panic because I thought he wasn't listening."
Collaboration is difficult and vital. The second filmed space in the Halfway House is M.C.4L.P. a film by Martin Clark and Lucy Pawlak. The film is a romance in which Clark and Pawlak direct one another and perform the lead roles. Both the content of the film itself and the working relationship formed during the making of it deal with control and loss of control. Pawlak and Clark have a shared interest in the nature that opens itself to the camera. "We lived together at Madame Lillie's Corset Shop in Stoke Newington and slept in neighboring rooms with our beds against the same wall. Martin suggested we collaborate on a film because we tread similar boards – an interest in the 'acting-out' or 'performance of' particular roles features in both our practices."
People say the experience of watching a film might be a little like a fling, "I pick you up, whirl you around and drop you down". Each shot within the romantic montage lasts 5 seconds, there is no beginning to the story, it only revolves seamlessly in a never–ending cycle of meeting and parting. Where are the dream factories? Are they in the park or at the bus stop? What is our relationship to a scene from a blockbuster, a clip from a music video, a snatch of a song, a picture of a sunset or a girl on a swing? Interestingly, Warsaw Old Town, (where parts of the film were shot), was rebuilt entirely from 18th century paintings by Canaletto. Eighty-five percent of Warsaw was destroyed in World War Two, the Old Town and its castle were a heap of rubble, but throughout the 50's, 60's and 70's the Poles pieced the palace and surrounding area together by scrutinizing Canaletto's careful brushwork. It was built out of a representation of itself, so it really is pretty as a picture.
"Once again we see performed the timeworn Greek melodrama: Orpheus, Eurydice and Hermes at the station. Through the mountains of luggage surrounding the figure of the Nymph, looms the steep and rocky path, the crypt into which she sinks when the Hermaic conductor with the signal disk, watching for the moist eye of Orpheus, gives the sign for departure. Scar of departure, which zigzags, like the crack on a Greek vase, across the painted bodies of the Gods"
Walter Benjamin, The Arcades Project (Harvard University press, 2002) p.406
After a week of filming in Warsaw Martin and I flew to Scotland to edit. When I finally return to my 4 rooms they will seem a little more empty – faint smell on my pillow might remain and some splashes of piss at the base of the toilet bowl – the only trace of Martin who lives alone in Glasgow.
We conversed while sitting in grubby armchairs in the installation of a sweatshop in Brick Lane, we chatted while walking down the valley carved out by a glacier in the Caucasian mountains, we argued at the top of the Empire State building or ended it in my room in Camberwell and all at once we could have been anywhere.
Full of irreverence bordering almost on contempt, I walk with dignity into the massive cool building made of granite. I climb unimpressed up the marble staircase rescued from the fire and covered with a red carpet, religiously shaken out every morning by the over tired, ever complaining char woman. I pay no attention to the newly installed windows and the freshly painted walls of the restored building. I enter with a casual air the modest but cosy little rooms occupied by people of importance and ask, perhaps a trifle too politely, for things that are perhaps too trivial, but to which none the less I am entitled – but which, of course, cannot keep the world from swelling and bursting like an over–ripe pomegranate, leaving behind but a handful of grey, dry ashes.
Tadeusz Borowski 'This Way for the Gas, Ladies and Gentlemen' (Penguin Books, 1976), p.179
The second collaboration within the show is a text written in 'partnership' with Ghislaine Leung. It might act as a circular argument with Leung playing the part of The Interlocutor and with Pawlak in the role of The Proposer. These antagonistic identities, and the authority that accompanies them, shift as the conversation ceaselessly engages and abandons its different narrative constructs.
"'Wspólna' the name of my street, means something close to partner, collaborator or accomplice. Wspólny can be translated as common or mutual. I like this in relation to my plans to use the flat itself for various forms of collaboration. Wspólnymi siłami = with combined efforts. Wspólna mogila = mass grave (some people think of Poland as a mass grave). Wspónota = community. Ulica Wspólna in its heyday was full to bursting with prostitutes, today a few remain, to be precise a sisterhood of 7 or 8 ladies who look as though they could be your Mother or Babcia, and who have quite possibly worked the same strip since they were girls. The Wspólna women are built like tanks and even without their huge shoulder pads they would be formidable. They don't really seem much like whores, one lady likes to dress all in red, but it's not exactly Roxanne's Red Dress, but rather a sort of baggy red suit and red trainers combined with a shock of orange-cropped hair, sure, she stands on the corner, but she has her nose permanently in a book. Last night as I was walking home a White Van Man tried to pick me up for a screw; my first fear was that one of the sisters might think I was moving in on their turf. I keep wondering if these arthritic street walkers chase the fresh meat off their territory, or whether the fresh meat prefers to stay indoors – the streets of Warsaw are awash with calling cards – 'Buy two hours and get the third free…' Three hours! That seems like a long time to me."
With thanks to:
Domo Baal, Jan Belina Brzozowski, Fabian Czolbe, Robert Dennis, Thomas Fossgård, Robert Hardy, Carlo Jelavic, James Kambietz, Tato Kotetishvili, Ghislaine Leung, Jolanta Pawlak, Susan Pawlak, Witold Pawlak, The Parsonage, Alex Pearce, Elizabeth Pruszynski, Professor Stanisław Szymański, Angela Święc and The Showroom, London.
They think, that they didn't know each other earlier,
nothing ever happened between them.
But what would they say: those streets, stairways and corridors
where they could have been passing each other for a long time?
I would like to ask them,
don't you remember–
maybe face to face once
in a revolving door?
an "excuse me" in a tight crowd?
a 'wrong number' heard over the phone?
–but I know their answer.
No they don't remember.
An extract from 'Love at First Sight' Wisława Szymborska, Miracle Fair (W.W Norton & Co. 2001), p30
Notes
Lucy Pawlak completed a BA in graphic design before graduating from the RCA painting department last summer. She recently exhibited in the Jerwood contemporary painters and will spend the next year at Lodz Film School.
Martin Clark graduated from the Photography department at the RCA in 2006, he studied for his BA at Glasgow School of Art. He now lives in Glasgow where he works as a photographer and film maker.
Ghislaine Leung is studying for her MA in Aesthetics and Art Theory at the Centre for Research in Modern European Philosophy, Middlesex. She currently works for Tate and Afterall. She is a free–lance writer.
Fabian Czolbe studies Humanities at Humboldt–University, Berlin, his focus is on Music, Theatre, Dance and the links between vivid music and art. Fabian plays jazz, free jazz and free improvisation with various ensembles often with theatrical connections.