Alex Rich
27.09.19 – 02.11.19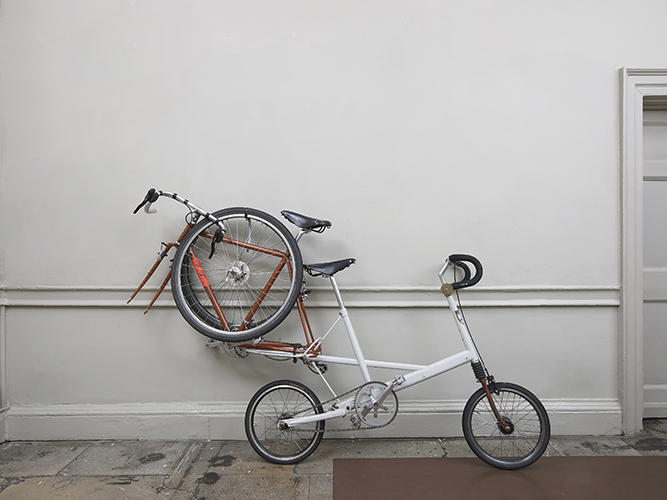 (image: Alex Rich 'Scenario (relevance)' bike on bike, straps, with many thanks to Alex Moulton, 2019, photography by Andy Keate, for full works list see pdf below)
Morning Domo,
I like how this scenario represents something without giving too much away.
)———(
Alex
Scenario (Lost), 2019
With a handful of windfall,
pocketed from the weeping pear tree.
Their weight in my pockets prompted
the translation as a toast to Barbara.
Scenario (Strangers), 2019
In an attempt to rid the allotment

of the prolific bindweed, fragments
of all sorts appeared.
From the millions of pipes produced
since that first draw from Sir Walter Raleigh,
there were enough to sink a battleship.
Scenario (Gaze), 2019
Never really knowing how the lamp
entered my grandmother's house,
an illuminated belly lead the way upstairs.
Quietly intrigued by his presence; over time
I seemed to be the only one with the soft spot.
Having always punctuated the settings
until I was asked, if I would like to have it.
What could I give in return?
Scenario (Potlatch), 2019
A typology of objects represent an engagement
with things heard, seen, read, tasted, forgotten,
remembered, stolen, made, found or lost.
The tale of the bend in of a pair of handlebars
inspiring the cantilever chair leaves me smiling in awe.
Scenario (Bag of sand), 2019
Living on a fragile peninsular,
the gradual erosion presents evidence
of structures that sat on the cliffs above.
Bright red pebbles quietly reveal
their former life as the walls of a battery.
Scenario (Moment), 2019
Smiling at the misreading before me,
I stumbled across the same assembly
amongst the words of Ivor Cutler.
Fuelling the need to share that
all important space for ambiguity.
Domo Baal is delighted to present a solo exhibition of scenarios by Alex Rich.