Neil Gall: Arrange your face
01.10.15 – 07.11.15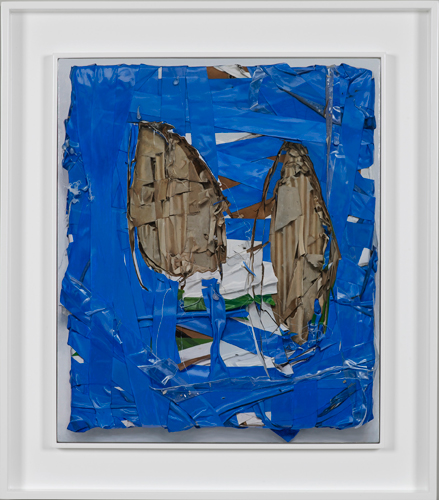 (image: Neil Gall 'Viking' oil on gesso panel, 50×42cm 2015, presented in an off–white spray–painted double tray frame: 65×57cm, photography by Andy Keate)
Domo Baal is delighted to present a solo exhibition of six new and recent paintings and one large drawing by Neil Gall; an intimate series of portraits, which revel in personification.
To arrange your face: to hide in plain sight; to compose your features in an attempt to conceal motives, feelings, or beliefs. The age–old art of dissembling is a necessity we each employ every day, for the purpose of sane conviviality if nothing else.
That the show's title is taken from Hilary Mantel's Wolf Hall will not be lost on most. The phrase crops up time and time again in both the book and the television adaptation. The mantra repeated as Cromwell steadies himself to the task in hand: to keep a hold on power and his head.
Describing himself – resolutely – as an abstract painter, at first sight, Neil Gall's paintings appear to belong to the contemporary trope of collage, sampling and appropriation; destroy to rebuild etc., but Gall's task of looking at the overlooked begins prior to putting brush to canvas or gessoed panel – with construction. His subjects are his own creations, modelled in his studio out of assorted found objects – packaging, string, tape – their 'faces' collaged from casually appropriated scraps – discarded plastic flowers, crumpled pages ripped from magazines. The iconoclastic oddities are photographed and it is from these photographic records that Gall, as a painter, works.
There is no trickery to Gall's work, as for example with Noble & Webster's transformations of detritus, where the illusion remains as a stable illusion. He does not present us with façades, but rather with a way of looking at the overlooked. Portraits which invite us to question less how they came to be, but rather who exactly they are.
Neil Gall was born in born 1967 in Aberdeen. 'Arrange your face' is his first solo exhibition in London since 2005. Solo exhibitions include 'Cut–Outs, Offcuts and Holes' at David Nolan Gallery in New York, earlier this year, 'Neil Gall' at David Nolan Gallery in 2012 and 'Re–Make/Re–Model' at Aurel Scheibler, Berlin in 2009. Recent group shows include 'Embracing Modernism, Ten Years of drawings acquisitions' at The Morgan Library and Museum in New York. Collections that include works by Neil Gall include Aberdeen City Art Gallery, David Roberts Arts Foundation, Denver Art Museum, Hiscox, Insinger de Beaufort, Simmons & Simmons, The Lodeveans Collection, the Morgan Library and Museum, New York, the Zabludowicz Art Trust, and Unilever among others.
Monographs on Neil Gall's work were published in 2012 by Hatje Cantz with a text by Nicholas Cullinan, and in 2007 'Shelf Life, Neil Gall' with texts by Simon Groom, Charles Darwent and Dr Johanna Malt by Black Dog.