Ansel Krut: It Could be Suicide…
11.03.04 – 17.04.04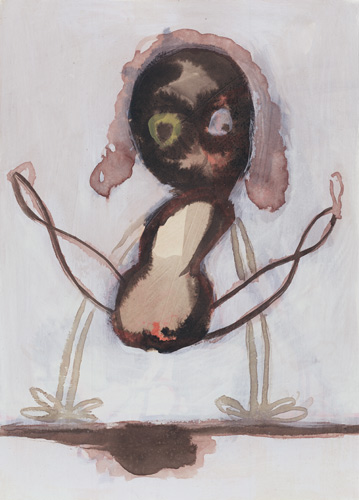 Domo Baal is delighted to present the first of a 2–part exhibition of new work by Ansel Krut, to be followed by a solo exhibition of paintings in June. This exhibition is accompanied by a tabloid newspaper in full colour that includes a story 'The Two Bills' and 14 real–size drawings by Ansel Krut, published by domobaal editions.
Drawing on the tradition of graphic satire and black humour more usually associated with popular arts: flysheets, illustrated broadsheet and cartoons, these images depict a barbaric and uncertain world, one that oscillates between cruel and comic extremes. All made with brush and ink on prepared paper and executed with deceptive simplicity and directness their small scale belies their vitriolic viewpoint. Here are monstrosities and mutations, ennobled animals and bestial humans, piles of eyeballs and episodes of cannibalism. Whatever is bewildered, rancid, maggoty and ridiculous has found its way into these drawings; the fag ends and gutter sweepings of urban life. Bizarre and unsettling they flicker between the credible and the ludicrous.
These drawings tap into the vein of discomfort that runs just beneath the skin of everyday life. Ansel Krut was born in Cape Town, South Africa. He studied Fine Art at the University of Witwatersrand. He then attended the Cité Internationale des Arts, Paris, in 1982–83, followed by a MA in painting at the Royal College of Art in 1986, from where he won the Prix de Rome. He has lived and worked in London since 1992. He has been a prizewinner at John Moores (1984) and the Jerwood drawing prize (2003).
It could be suicide… is the first of a 2–part exhibition. In June at domobaal, Ansel Krut will exhibit paintings.
On the opening and closing evenings of the exhibition, Domo Baal and Ansel Krut are delighted to welcome Larry Barnes, M.I.M.C. and Pearly King of Thornton Heath, a.k.a. the Viceroy of Versatility and most recently seen in Vogue as companion to Kate Moss, who will perform: "The Houses in Between", to musical accompaniment. Performance Times: Thursday 11th March: the performance will commence at precisely 8.00pm. It will end at exactly 8.04pm. Saturday 17th April: the performance will commence at precisely 6.00pm. It will end at exactly at 6.04pm.
Larry Barnes RIP, 16 May 1926 – 2 July 2011