International Lawns
domobaal gallery

selected external resources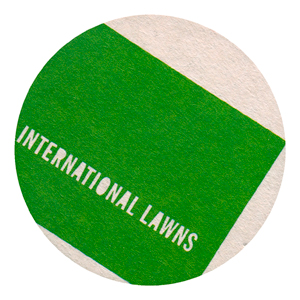 INTERNATIONAL LAWNS (IL) is a design group led by artists Niall Monro (NM) and Andrew Curtis (AC), founded in 2013.
(NM) and (AC) have been working together creatively since 2008 and decided the time was right to formalise a partnership. Both come from backgrounds involved in the production of printed matter, both for commercial and fine art purposes. Monro's experience began in the pre and early digital period of the 1980's whereas Curtis' is of the last 15 years or so. Although they share views on approaching work, pushing an idea beyond their preconceptions is only possible through the resolution of a healthy battle.
Driven by a fascination and respect for the history of brand management and corporate identity, the design group INTERNATIONAL LAWNS undertake projects both by commission and personal motivation. Although as a design group that specialises in the working and reintegration of decommisissioned logotypes, the research leads into areas of display and façade that inform the work produced.
INTERNATIONAL LAWNS is also the name of a tennis centre in Eastbourne, something the founders were unaware of when they decided on their name. The name came from research into the function of the garage door beyond its primary purpose. They saw the seasonal repainting of its surface as the nearest most people will come to taking on the history of high modernist mid–century abstraction, in a contemporary suburban context. Only a short leap took them to the well–kept lawn, another means of displaying one's aesthetic values.
Both Monro and Curtis live in the suburbs, Niall in West London and Andrew in Cliftonville, Margate. They see them as the neutral space between nature in the countryside and the man–made city centre, a place where the subtle aesthetics of lawn care or garage door painting can flourish.
Field Trips

FT 17 – Sunday 1st December 2019: Herne Bay to Margate.
FT 16 – Saturday 24 August 2019: Sandwich2Margate.
FT 15 – Saturday 4 November 2017: 12 to 6pm, domobaal, London.
FT 14b – Sunday 13 July 2017: All Paths Lead to Erith, commissioned by the Erith Lighthouse, devised and programmed by DK–CM and The Decorators.
FT 14a – Saturday 12 July 2017: All Paths Lead to Erith, commissioned by the Erith Lighthouse, devised and programmed by DK–CM and The Decorators.
FT 13 – Sunday 16 July 2017: Harlow to Harlow: with Special Guest Bruce McLean.
FT 12 – Sunday 14 May 2017: Dartford to Gravesend via Crete Hall Road (Northfleet).
FT 11 – Saturday 28 January 2017: IL with The Rural College of Art (Holborn to Ilford).
FT 10b – Sunday 18 September 2016: Welling Station to Thamesmead with Special Guests.
FT 10a – Saturday 17 September 2016: Charlton Station to Thamesmead with Special Guests.
FT 9 – Saturday 30 July 2016: Heathrow to Banstead.
FT 8 – Sunday 12 June 2016: The Crystal Palace to Crystal Palace.
FT 7 – Saturday 14 November 2015: John Street.
FT 6 – Saturday 29 August 2015: Taiwan.
FT 5 – Sunday 7 June 2015: Isleworth.
FT 4 – Sunday 25 April 2015: Central London.
FT 3 – Saturday 25 April 2015: Clerkenwell.
FT 2 – Sunday 26 October 2014: Elmstead Woods.
FT 1 – Sunday 27 July 2014: Perivale.
Exhibitions

2020

: Ideas Travel Faster Than Light, invited by Clair Joy and Jasone Miranda–Bilbao, The Mecklenburgh Square Garden Project 2020, London WC1.

2019

: International Lawns/The Rural College of Art/Disinformation at White Box Gallery, Blackheath, London.

2018

: Andrew Curtis – Assorted Originals, domobaal, London.

2017

: FT 15 + Saturday 4th November, domobaal, London.

2016

: Now It is Permitted: 24 Wayside Pulpits, invited by Bridget Smith, Swedenborg House, London.

2015

: FT 7 + Special Guests: A Native Hundred, Bruce McLean, Chen Po–I, Craig Burnett, Gerhard Lang, Jonathan Meades, Leon Chew, Marcel Dinahet, Paul Nash, Scott Myles, Vivien Lee, domobaal.

2014

: A Circle, Christopher Rountree, David Gates, Rupert Ackroyd and International Lawns, domobaal.

2013

: The Tool Shed, Frome, Somerset (solo).
: Wintergarden, Transition Gallery at Sutton House, London.
Printed Matter etc.

2016

: Copyleft, an invitational downloadable, printable pdf publication by Unlimited Imprint (September).
: Folded, an annotated Pocket Map, commissioned for a walk between two talks at domobaal and Tintype Galleries on 28 May 2016.

2015

: flash (the postcard,) with Craig Burnett.
: FT 3, location notes and map, a downloadable, printable pdf.

2014

: Bespoke Printed Tote for FT 2, a Walker's Friend and Practical Container for 'A Circle' publication.
: Beermat (in collaboration with The Rural College of Art) dispersed across London Pubs.
: A Circle, publication including 'Manifestos for Interregna' (with Christopher Rountree), an artist's book (double–sided segmented circular leporello, edition 75).

2013

: The Second Rate Condition, a two layer screen–print poster edition, printed and published by Invisible Print Studio, Wimbledon, UK.
: Signature, a scored, folded double–sided editioned lithograph limited to 74 copies by Andrew Curtis and David Gates, continuing a long–standing collaboration between the two artists, printed at the Curwen Studio in offset litho, each print stamped by The Rural College of Art and numbered by hand.
: 8½ Posters, (with David Gates of The Rural College of Art) each: sizes variable, edition 10, inkjet print with screen–print text, fly–posted by invited collaborators in various locations: Florida, New York, Taipei, Tokyo, Manchester (UK), San Francisco, Bogota, Berlin, Athens, Harwich (UK) ao.