John Strutton: Anna Lies
24.02.17 – 25.03.17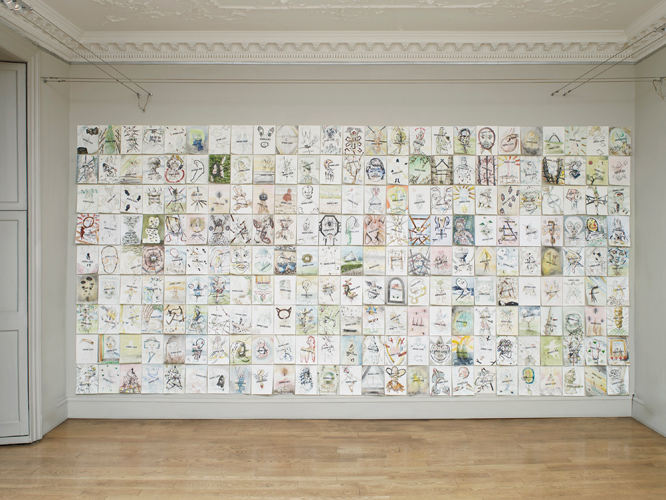 Domo Baal is delighted to present John Strutton's fifth solo exhibition in the gallery (installation photo by Andy Keate).
ANNA LIES
She paints pictures, pictures that lie.
Over the past decade or so Strutton has started each day in the studio by making a small drawing on A4 paper. Like a stretch, or limbering up exercise this activity was always meant to be an act of just doing something rather than producing anything. Each drawing was stamped, as a way of defacing or invalidating the image, with the words ANNA LIES. Over the years this habit has become an accidental archive of painting without the burden of it becoming visible. The short video work ANNA LIES (02:57min) compresses hundreds of these images down to 1/30th of a second each, to form a constantly shifting visual frame over which a narrator throws accusations of deceit, contradiction and irresponsibility.
The original drawings will be shown as a large scale installation.
Strutton's 'Under 5's Archive' is a collection of videos that have been recorded on mobile phones. Each work is a response to the everyday chance collision between an anecdote, situation, image or overheard phone conversation. Imagery is constructed through the use of drawing, painting, photography, crude forms of animation and mobile phone footage. The archive of works forms the basis of a YouTube channel (link below) that uses tagging and keywords to attempt to embed the works in the broad arena of conversation facilitated by social media. The soundtracks to each film are combinations of recorded and text to speech narrations with music drawn from a long standing collaboration between Strutton's band Arthur Brick and musician and sound engineer Riccardo Carbone. Many of these new 'Under 5's' videos also draw on archives of material that span decades (religious tracts, newspaper cuttings and personal photographs) and have been put together to form a playlist of short anecdotal narratives that warn variously of the dangers from unsolicited leaflets, utopian architecture and impulse eBay purchases.
As part of this show, the RCA Gorvy Lecture theatre held a Special Screening of Strutton's recent 'Under 5's Archive' on Monday 20th at 6.30pm.
In November 2016, Strutton's 'Under 5's Archive' was presented by curator Caleb Madden at the De La Warr Pavilion as part of their 'Dear Serge' programme.