Maud Cotter: Matter of Fact
07.04.16 – 28.05.16
Extended until Saturday 28 May when Maud Cotter will be in conversation with David Cheeseman at 14:30hrs*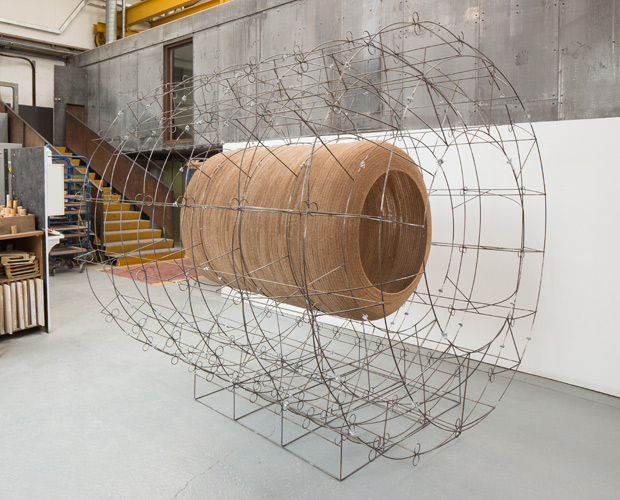 (image: Maud Cotter 'Matter of Fact' mild steel, card, jesmonite sealant, 240×240×300cm, 2016, studio shot at the National Sculpture Factory, Cork, Ireland)
Domo Baal is delighted to present 'Matter of Fact', a solo exhibition by Maud Cotter. Cotter's new body of work is accompanied by a text by Ed Krčma, 'To Diagram without Stilling: On Maud Cotter's Sculpture' that explores Cotter's work in relation to expanded conceptions of drawing, centring on her use of linear sculptural forms and modest materials to articulate new perceptual and cognitive potentials in our everyday world.
"Maud Cotter's work sets up an exchange between the most humble and rudimentary of everyday objects and far–reaching abstract and conceptual models. The simplest domestic tools and containers – sieves, waste–paper baskets, cups, lampshades, and filters – provide a first lexicon of forms to be enlarged, augmented and distilled into spare and lively 'drawings in space'. The resulting linear, diagrammatic sculptures are large enough to orient and articulate the rooms in which they are installed, and combine apparent simplicity with a powerful sense of emergent complexity. Their simplicity derives from the compression of their formal means, with Cotter often employing geometric, symmetrical, concentric, and modular structures to order her elements. The complexity is produced both in the process of making by hand, whereby 6mm mild steel rods are bent over the knee and welded together, producing inevitable irregularities, and in the responsiveness of the sculptural drawing to the movements of the viewer's body, which in turn has its bearing on the movements of the mind." (excerpt from 'To Diagram without Stilling' download complete essay as a pdf below)
Maud Cotter's recent exhibitions include: 'Compression' Ormston House Gallery, Limerick, curated by Ed Krčma, 2015; 'Fourth Space' Inaugural Exhibition, Uilinn, West Cork Arts Centre, Skibbereen, Co. Cork 2015; 'From Point A to Point B and Back again' Point B, Williamsburg, New York, 2015; 'The Air they Capture is Different' The MAC, Belfast 2013; and 'a solution is in the room' a solo exhibition at CIT Wandesford Quay, Cork, 2013. She was also Initiator/Curator for The Land of Zero, thelandofzero.com at Crawford Art Gallery, Cork in 2014. She lives and works in Cork, Ireland. Cotter has lectured in Art and Architectural Colleges in Europe and America. She is co–founder of the National Sculpture Factory and a member of Aosdana.
Maud Cotter is also exhibiting in '2116', at the Lewis Glucksman Gallery, Cork, curated by Chris Clarke, Senior Curator at the Glucksman; Caitlin Doherty, Deputy Director of Curatorial Affairs at the Broad Art Museum and Emma–Lucy O'Brien, Curator at VISUAL, Carlow, from March to July 2016, touring to the Broad Art Museum, Michigan, USA, from November 2016 to May 2017. In 2018, Cotter will have a solo show at Limerick City Gallery, Ireland.
We would like to thank Culture Ireland for their generous support of this exhibition.
*Maud Cotter and David Cheeseman will be in conversation in the gallery at 14:30hrs on Saturday 28 May, after which 'Matter of Fact' will close. This will be followed by a walk assisted by an annotated map kindly provided by International Lawns. At 17:00hrs David Cheeseman will be in conversation with Maud Cotter in his solo exhibition 'Slime Mould Logic' at Tintype Gallery: All are welcome.