John Strutton: Grease Madonna
03.10.14 – 22.11.14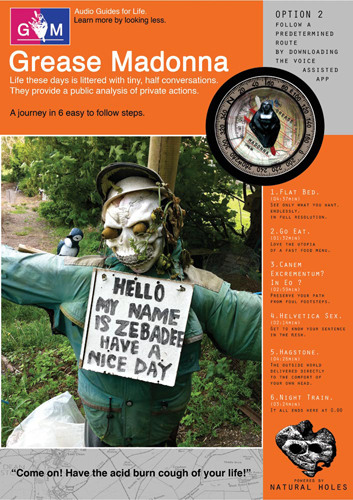 Grease Madonna (A1 matt photo poster, 180 gsm, 84.1×59.4cm 2014)
Life these days is littered with tiny, half conversations, providing a public analysis of private actions. So, you only have yoghurt for breakfast to save on the washing up? Well, thank God we all know that! We have little or no control over our exposure to this form of radiation and these beginnings, middles and ends become the catalyst for further chain reactions of personal narrative. What we hear is not what we see. The ordering of a take away on the last train home collides with the reading of 'The Wasteland' and fast food becomes the detritus that clots the trammelled meadows. Frustration caused by the technical spec of one's home entertainment system after a day at the British Museum with Dr Dee's 'shew–stone'. Smart phones frame almost any spectacle like a modern day Hag stone, a conduit for the living and the dead.
The Grease Madonna is a peripheral epiphany. A sat nav on vibrate that promotes the incidental like an audio guide that goes off piste to deliver alternative content. She is a companion and compass, your own Clare Balding to ramble with 24/7.
1.Flatbed. 04:37 min (2014)
Rogers Corman's 1963 film 'The Man with The X Ray Eyes' is the story of Dr James Xavier's attempts to increase the bandwidth of his vision and the profound consequences of his experiments. At the end of the film he stumbles, almost blind from an excess of sight, into an evangelist meeting and is asked: 'Do you want to be saved?' He replies: 'No I want to tell you what I see!'
2. Go Eat. 01:32 min (2014)
Hand delivered mail. Those items that have not yet made the cross over to junk email. Take away menus and religious tracts. Powers of persuasion in print form. Salvation through salivation as we walk through fields of thin and crispy crusts and trawl through a quagmire of quattro formaggi.
3. Canem Excrementum? In Eo? 02:59 min (2014)
Daily Mail incredulity and the hypnogogic point of view. A plague of swinging bags that defy any reasonable logic induce in the protagonist a waking dream of sharing an intimate space with a dog shit.
4. Helvetica Sex. 02:14 min (2012)
In Franz Kafka's short story 'The Penal Colony' inmates of the detention centre are tattooed with the crime they have committed. An observer asks the prison officer if the condemned man knows his crime and the officer replies that this is not necessary, as he will get to know his sentence 'in the flesh'.
5. Hagstone. 04:26 min (2014)
A stone with a naturally occurring hole in has long been used as a talisman to ward off evil or as a portal onto the land of fey. But the power of second sight can work both ways and the conduit that lets you in can also let them out!
6. Night Train. 03:24 min (2013)
In his 1963 report on the reshaping of the British railway system, Dr Beeching condemned what he saw as 'The fossilizing activity of emotional attachment' in regard to the nations affection for the local branch lines. On the last train home the electronic train announcer turns public commentator as a commuter tries to determine the value of a model train set with a house clearance company.
Domo Baal is delighted to present Grease Madonna, John Strutton's third solo show in the gallery. The six short videos that make up Grease Madonna are drawn from a growing archive of works, each under five minutes, made over the past decade or so. Each work is a response to an often chance collision between an anecdote, situation, image or overheard phone conversation expanded through a process of live footage, collage and low–fi animation. The soundtracks to each film are combinations of recorded and text to speech narrations with music drawn from a long standing collaboration between Strutton's band 'Arthur Brick' and Riccardo Carbone.
The Exhibition will present a single large scale projection and is accompanied by a full colour A1 poster and its own beermat (see below). Both are available at the gallery.