Mhairi Vari: Domain
19.11.11 – 17.12.11 and 12.01.12 – 21.01.12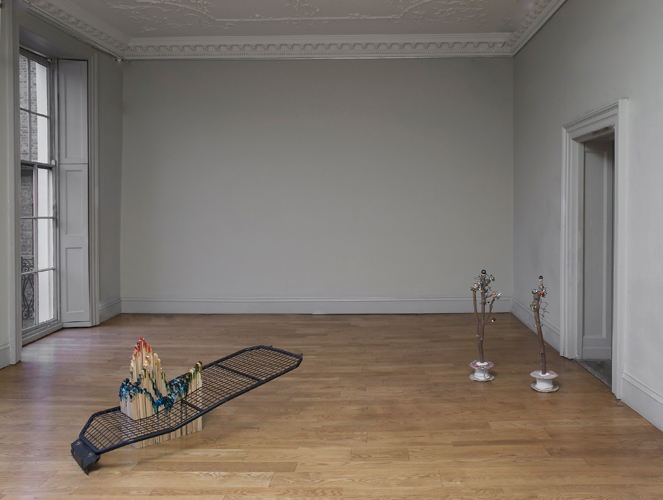 Domo Baal is as delighted as concerned to present 'Domain' Mhairi Vari's second exhibition, currently taking up residence in the gallery. The gallery has unusually been closed for two full weeks for the exhibition installation.
Lounging comfortably between Sculpture and Installation, there is little chance this work will exit the gallery. Of the four uneasy pieces made specifically for this exhibition 'Hub' will not fit through any door or window without first being broken down into its myriad components. 'Shift' just won't. full stop.
Vari works with found and non–traditional materials. I.e. (meaning Id Est, rather than Internet Explorer) those not designed to be used to make Art, however Fine it might be. But whose tradition is it anyway? Working with non–trad/non–art stuff has become commonplace, so what is the interest here? The common–place inhabited and explored consistently by the practice of this artist could be described in its broadest sense as 'landscape'. Oh dear. Sigh. That doesn't help much either. Landscape and Art. Again. We all live in the world and 'landscape' as a concept can be as much of a get–out for place as 'memory' is a stand–in for something forgotten. The macro experience of Vari's work could be said to one that recalls the dystopian sensibility of a Clockwork Orange world, yet micro inspection reveals details vested with notions of the Sublime – albeit in a Godless world (no C.D.F. she).
But what do we see in the gallery? Is it a graph? What might these be models of? Too clunky and intriguingly playful to be architectural models of anything buildable or useful. Is 'Shift' a bar graph of the Inevitable Slide of the Euro, or the Fortunes of Lehman Brothers/News Of The World/The Life and Loves of Il Cavaliere/substitute anything else you care to mention. Is 'Hub' a 3–D rendering of a 2–D diagram of Internet – and by extension, cyber – connectivity? Is it the proposition of this badly behaved model to deliberately subsume the role of the desk as the necessary and urgent place of work? Aaaghhh!
Vari is clearly interested – if not positively obsessed – by the speed and flux of constantly shifting technical advances, scientific theory, meta–data, statistics, the architecture of information, data visualisation, the stuff of our urban built societies, and the how of communicating this vast glut of information. Just how does one process it into tangible individual experience? We freely and easily access a google–eyed view of the world becoming absorbed in and by the aesthetics of surveillance. Vari is attempting to develop a sculptural language that reflects the instability, fragility and vulnerability of our physical and digital worlds. In search of the contemporary location of the sublime in vast virtual spaces, final outcomes can only be arrived at through an extensive and obstinate process of material play. The work is often time–based and ephemeral, echoing the world as a set of dynamic relations. The elegance and sophistication of the work frequently contradicts its utterly British Can–Do 'Blue–Peter' homemade–ness. Vari is known for employing accumulative methods of gathering, sifting, collating and the weaving together of materials. Her experiment is aimed at generating something cohesive, something whole using quotidian objects that bring with them a wealth of associative qualities. (Vari's installation at the Economist Plaza used 40kg of Tetley Tea)
Vari will also be exhibiting in 'Binding Tide – double edge' at the Blyth Gallery, Imperial College, London from 29 November until 5th January 2012. She completed her MA in Sculpture at The Royal Academy Schools in 2004, and was awarded the Royal Bristish Sculpture Society Bursary Award the same year. In winter 2006 her sculptural installation 'Relief' was commissioned for The Economist Plaza as part of the Contemporary Art Society's Economist Plaza Commission Series.