Walter Swennen
25.09.10 – 30.10.10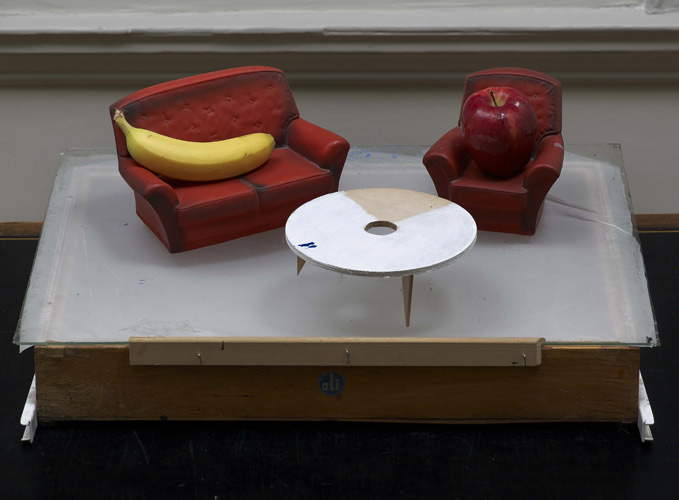 (image: Walter Swennen 'MMX (apple & banana)' 75×60×30cm approx/30×24×12in, found drawer, glass sheet, model plastic 2–piece suite, 1 apple, 1 banana, 2010; photo by Andy Keate)
Domo Baal is delighted to present Walter Swennen's first solo show in London, having introduced a selection of new paintings and a video last October in the exhibition 'Time is a Sausage (A Show of Shows)' and at Art Brussels earlier this year.
Walter Swennen has worked as an artist since the 1960s, focussing on painting since 1980, with a substantial track record of gallery and museum shows to his name. There can be no doubt that he ranks among Belgium's most respected and eminent painters. His influence is clearly discernable throughout current contemporary art practice in Belgium. Indeed he is frequently referred to as Belgium's 'best kept secret' and we now seek to redress this major imbalance, and contribute to the growing appreciation of his work outside his usual stomping ground.
I was introduced to Walter Swennen's work by a mutual friend, Gerry Smith, when he hung Walter's picture of a battleship next to a painting of mine in a group exhibition. Frankly, Walter's painting blew mine out of the water. Ansel Krut.
I notice that everything in this work slightly staggers and reels, as if the small, fragile paintings actually refuse to be there. Somewhat excited, they whisper. The studio in Antwerp where I recently looked at them, was not so much in disarray – rather, it was filled with strangely constructed things. I don't have another word for it. Rudi Fuchs writing in the introduction to a catalogue for Swennen's solo show 'How to paint a Horse' in 2008.
Walter Swennen is a painter committed to definitions and performances, in words and gestures as much as symbols. The short circuit between word and image occurs in the painted surface, with recognisable and playful motifs. These he usually plucks from mass media, the popular culture of collective, generally familiar characters. Like a hobbyist he assembles motifs, painted or drawn, from his vast depot, where he assembles, abstracts and retranslates them in a secure and painstaking manner. Swennen toddles into visible reality with disarming and highly alienating constellations, in which visual associations with irony and humour appear to the eye as witty riddles.
Walter Swennen's artistic production is not easy to pin down stylistically and remains unique within Belgian art. He conceptualises life in paintings that relate strongly to memory and imagination, but that at the same time are a treatise on the artistic practice of painting. Behind the lure of painted or drawn recognisability, lurks a world of poetry, wonder, and gentle 'anti–answers' to the art of today. Dirk Snauwaert in his introduction to Walter Swennen's solo show in Bruges in January 2010.
Here, in London he will exhibit 19 new paintings, the greater part of which have been completed this year, alongside a still–life installation of objets trouvés. The paintings represent the full range of the practice for which he has become known, from text–based works to abstract grounds, representational subjects and monumental narratives in primary colours. The paint is at times unguent and viscous, layered thickly with a spatula, and at other times mixed directly from the tube on the canvas. Sometimes the paint is handled as if there is a world shortage, at others as if the material layers of pigment have been scraped off in search for the mystery beneath or the surface used to clean his brushes. Swennen's paintings are as likely to be presented on finely grained primed linen as on a panel from a heavy front door. His fondness for using the ubiquitous white square metal lids from discarded washing machines, dishwashers and cookers take his practice back full–circle to his beginnings as an artist engaged in multi–disciplinary happenings and performances with Marcel Broodthaers and others in a former domestic appliances shop in 1960s Brussels.
The gallery has published a poster on newsprint for Walter Swennen's exhibition, available from the gallery and also at the London Art Book Fair at the Whitechapel Gallery 23–26 September.