Felicity Powell
20.06.09 – 25.07.09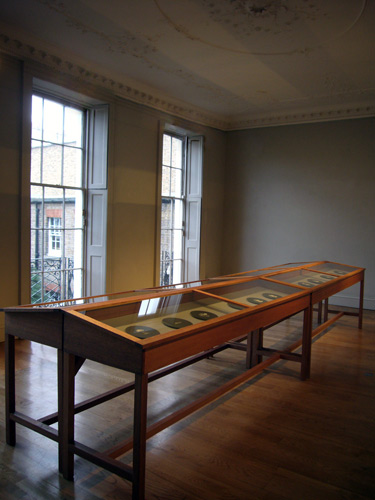 " … wax gives rise to thoughts of mortality; it burns, it melts down, it suggests the vanity of the world, the weak candle flame of hope, the deliquescence of flesh. The material implies organic change … Wax cheats death, it simulates life; it proves true and false … " (Marina Warner, from Phantasmagoria: Spirit Visions, Metaphors, and Media (Oxford Universty Press, 2006)
Domo Baal presents Felicity Powell's first solo show in London since her exhibition in the Victoria and Albert Museum's Sculpture Galleries (2002 to 2004). This exhibition focuses on a series of works Powell has developed since 2006. A pocket book will be published and will be available in the gallery.
Felicity Powell works in white wax in low relief on the backs of mirrors. Her figurative imagery is full of subtle and macabre humour. The heads she has modelled are always in the process of change, each is infused with metamorphic potential: growing antlers, extruding tentacles or coiffed with spaghetti; as though the known phyla have been infiltrated by subversive and impish genes. The images have the wonder and strangeness of exhibits from a cabinet of curiosities.
The wax on glass is at once dense and translucent, solid and fluid. Powell links the medium's seeming dichotomies at points of exquisite detail, as though the delicate volutes of a miniature ear for instance, can pin down the precise moment of elision between disparities, between known and unknown worlds.
Mirrors were once sought–after objects of priceless luxury and still today retain something of their mysterious hold on the imagination. Perversely, Powell uses the non-reflective reverse of each mirror. Her work is suffused with reference to the history of materials, to scientific experiment and to art historical tradition (light wax against a dark ground for instance has been used by medal makers of the 17th Century such as the Hamerani family in Rome). Powell's works bring a contemporary sensibility to these techniques.
Powell's exhibition coincides with 'Medals of Dishonour' (25 June to 27 September 2009) in the Prints and Drawings Gallery (Room 90) at the British Museum. Six years in the planning, 'Medals of Dishonour' is a unique exhibition that focuses on medals that emphatically condemn their subjects and is curated by Felicity Powell and Philip Attwood. Historical medals from the 16th to the 20th Centuries, including those by David Smith and Marcel Duchamp will be exhibited alongside new contemporary medals commissioned through the British Art Medal Trust from Steve Bell, Jake and Dinos Chapman, Ellen Gallagher, Richard Hamilton, Mona Hatoum, Yun-Fei Ji, Ilya and Emilia Kabakov, William Kentridge, Michael Landy, Langlands and Bell, Cornelia Parker, Grayson Perry, Felicity Powell. The newly commissioned contemporary medals depict wide-ranging subjects, from the war in Iraq and consumerism to ASBOs and the environment. The Trust has presented an example of each of the newly commissioned medals to the British Museum for its permanent collection. The exhibition is accompanied by a catalogue.