Mhairi Vari and David Cheeseman: Analogue
10.04.08 – 17.05.08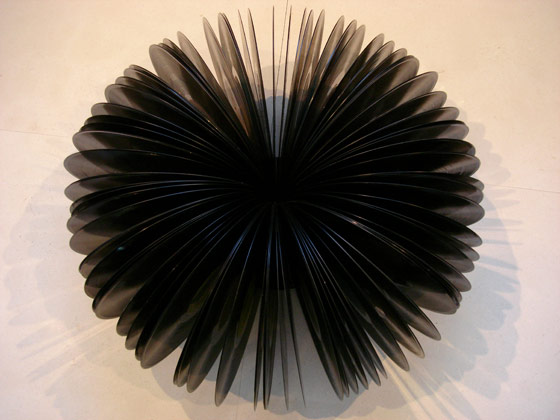 Domo Baal is delighted to present 'Analogue', an exhibition by Mhairi Vari and David Cheeseman. Cheeseman and Vari will show work developed in their individual practices as well as a substantial joint project. Collaborating, the artists employ strategies of accumulation and repetition to build intense optical surfaces meant to confound the underlying sculptural form. Their practices converge in 'Multiverse (Part 1)' and 'Multiverse (Part 2)', two complementary works, each creating new, alternate uses for and universes of what was once Vari's entire record collection (a total of 80 vinyl albums and their sleeves). The work begins as a simple nod to quotidian pop culture but unfolds to reveal a more obscure but equally current cosmological debate.
Vari's brand of eclectic metamorphosis finds a new use for discardia, everything from suburban bric–á–brac to natural materials are cut, punctured and drilled for the bigger sculptural picture. A current solo project will showcase her paradoxically surgical production line commitment to the making process, drilling in the region of 16,000 homes in a large tree branch for a community of flat–headed clout nails. The heads of each have been individually painted with varying shades of nail polish to give this twisted natural form a contrastingly machismoid, yet undeniably feminine facelift. Vari may eschew traditional sculptural materials, yet creates entities that reflect the formal considerations of the craft. The scale of this piece is beyond the ornamental but small enough for us to feel charmed by, if a little wary of its serpent–like bulk. David Cheeseman is interested in the 'theatre of illusion' believing that the aura surrounding the magician lies somewhere between that of the priest and the scientist: "It requires a level of discipline, precision and understanding of scientific principles alongside an intuitive grasp of psychology that encourages us, the audience, to talk 'about the beyond'". Fascinated by the tension between ugliness and beauty, Cheeseman challenges conventional discreet notions of both by juxtaposing one with the other. A precious mahogany surface is encrusted with Swarovski crystals, or the smooth luscious surface of a large format photograph is infested with a colony of jewelled barnacles. Cheeseman thus emphatically explores novel synthesised notions of corrupted beauty and luscious ugliness.
Vari has exhibited at domobaal since 2004, when her work was shown at Artissima 11, Torino, after her graduation in Sculpture from the Royal Academy Schools. More recently she has shown new work in 'Oyster Grit' in September 2007. In November 2006 she was awarded the Economist Plaza, CAS commission, and presented 'Relief' — a tea bag, 2 metres in diameter, filled with 17.5 kg of tea, conceived as a tribute to Economist Plaza office workers needing a break.
David Cheeseman was awarded a British School at Rome Gulbenkian Scholarship in 1988 followed by a Rijksakademie Residency in 1989. He has exhibited and taught continually and extensively since, including among others, at Kettle's Yard, Cambridge. He last exhibited at domobaal gallery in 'Magic within Reason'. In 2006 he was artist–in–residence at Gloucester Cathedral, culminating in a solo exhibition 'On the Other Hand'.