Ailbhe Ní Bhriain: Aftermath
30.03.07 – 05.05.07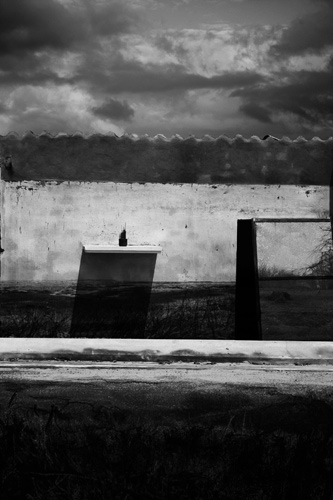 Domo Baal is delighted to present Ailbhe Ní Bhriain's first solo show. Ailbhe will show new video and photographs.
Ailbhe Ní Bhriain sets out to interrupt the "believable" space of the video image, displacing our perception of place and creating a dialogue between internal and external states. There is an undoing/unworking at play, which creates shifts in visual register and a tension between surface and depth. The works are meditations on familiarity and otherness and question a relationship to place and the image. The truth associated with photography and video is revealed as construct and transformed into a painterly illusion. An authentic relationship to place is thereby sought through exploring the inauthenticity of its representation.
Ideas of Exile, in its double sense, inform the work ie exile as a physical state of displacement and the work of art as exemplary exile – the image as a form of otherness or "being out of". The gap between the real and illusory which video, by its nature, forces us to occupy, might be seen as a parallel to the ever–absent present occupied by the exile. It is this gap which is exploited in the work, the slippage between "being in" and "being out of", where place and placelessness, internal and external, abstraction and representation merge.
Ailbhe Ní Bhriain received her MA at the RCA in 2004 and won the Jerwood Drawing Prize Student Award for her video "Immergence". "Immergence" was screened in 13+ an exhibition of video at DOMOBAAL in April 2005, the World Wide Video Festival in Amsterdam, Peripheral Visions, Cork, 2005 as well as by the British Council at the Helsinki Photography Festival, 2005. It is currently being screened in the exhibition 'El Lienzo Es La Pantalla' at the Museo Reina Sofia, Madrid, curated by Berta Sichel in a programme with work by Jacco Olivier and Malcolm Le Grice, Jean–Luc Godard & Anne–Marie Miéville. The videos will then tour to Salo Parpallo in Valencia.
She is currently undertaking a PhD at Kingston University.
An essay, 'The Trembling Image' by Jonathan Miles, written for this exhibition, will be available from the gallery. We are grateful to the Cork Film Centre, Ireland for their generous support of this project.