Roxy Walsh: Felix Culpa
10.06.06 – 15.07.06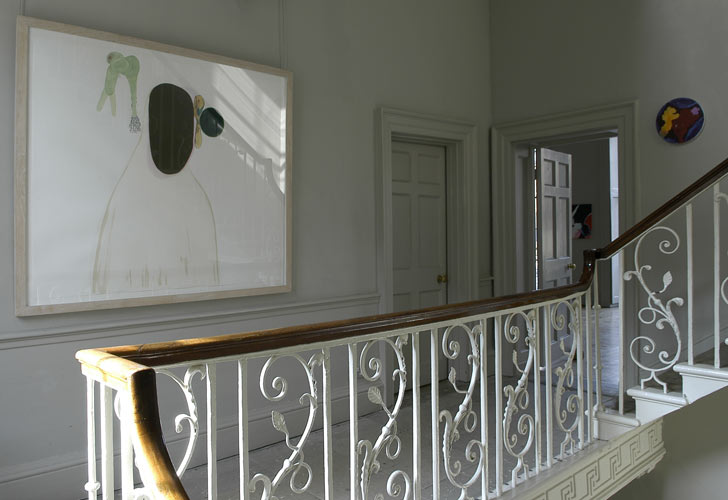 Felix like the cat
Culpable like a guilty gulp
As a child I collected voices. There was nothing to show for it, and little to hear. What I remember is the pleasure of exploring the cavities in my head.
Odd, funny and beautiful, these new paintings by Roxy Walsh are spooked with creatures appearing out of pale puddles of paint. There are fingers and holes and circles, a hart with a necklace and knitted squirrels' ears. Sometimes the images mimic words or small children, cropping up again and again, looking like they want to be to be understood.
The paintings are made in watercolour on linen or on gesso panel. They are made slowly through a process of painting and washing, overpriming and repainting. The delicacy of the medium allows for slowly worked paintings to retain aspects of immediacy and accident alongside more constructed passages, to bring together different kinds of imagery and influence in an apparently coherent visual field. The work is highly deliberate, but the rules of deliberation are opaque.
The paintings play with visual expectations as poetry plays with our expectations of words, shifting direction just when you think that you know what you are looking at. A single element may be picture-book simple, but read once as a planet, again as the pupil of an eye, again as a disc, dragged and slipped through paint. This work is concerned with the underworld of words and co–joined images: grounded in abstraction, but inflected with figurative speech.
Jonathan Goodman wrote of Walsh's paintings: 'beyond their erotic ironies' (they are) 'primarily about the pleasures of language and painting': 'In their diminutive size and lyricism, these works feel like short poems.' '… she seems filled with a musical regret. Her stylized provocations are a way of keeping the poetic alive'.
Felix Culpa is Roxy Walsh's first show at domobaal. She has had previous solo shows at Mobile Home Gallery, London, and Annika Sundvik, New York. In 2000 she was an Abbey Awardee in Painting at the British School at Rome. She is curator and editor of 'Infallible, In Search of the Real George Eliot' a touring exhibition and book exploring and developing relationships between fiction and contemporary art.
Roxy will be participating in the 2006 Braziers International Artists' Workshop. Forthcoming group shows include Dr Dee's Library at the British Museum and The Ost Archives at Danielle Arnaud.'Felix Culpa' will also be shown at Bastart, Bratislava, Slovakia, this October, and The Reed Gallery, University of Cincinnati, USA in January and February 2007.
A catalogue of this exhibition will be published in July by the ARTicle Press with essays by Sharon Kivland, Dale McFarland, Simon O'Sullivan & Adrian Rifkin, designed by o–sb.