Paradisiaco: Haris Epaminonda, Neal Rock & Rebecca Stevenson
27.11.04 – 05.01.05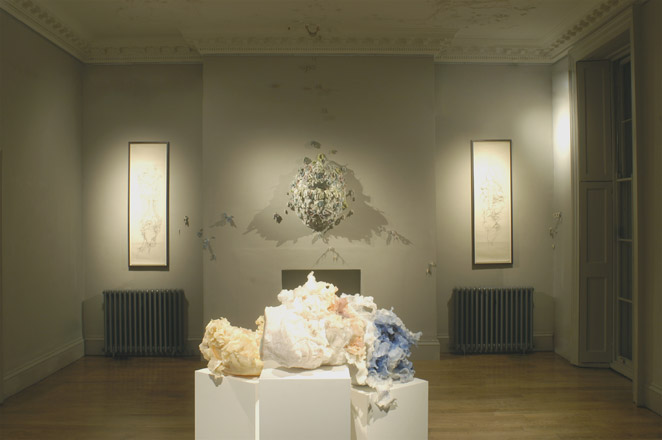 Domo Baal is delighted to present new work specially produced for this exhibition by 3 artists who work with ideas of the core moment of transformation, delivering scant clues if any to help the viewer unravel the source or define the outcome with comfort. We are invited on a sensual journey, which stimulates the imagination's appetite. Haris Epaminonda, Neal Rock & Rebecca Stevenson share an exuberant Baroque visual language of form, combined with a Byzantine sense of colour and materiality.
Haris Epaminonda works within the realm of the imaginary by creating otherworldly, hybrid forms caught at a moment of transformation. An invisible elsewhere where there lies no clear distinction between what is real and what is imagined… Although the image represented is mostly of an alien nature, something not earthy, it often feels quite familiar. Epaminonda works with video, drawing, photography and book making, evoking a seductive dream-world landscape where an elegant chaos makes perfect sense and even has its own sense of order and logic, as long as one remains trustingly within its boundaries.
Neal Rock paints in pigment infused silicone, concocting temptingly delicious looking paintings using the equipment a chef might use to ice the perfect cake. Layered swirls dance extravagantly, twisting and spiraling around each other. In this case, icing has most definitely consumed the cake and is proliferating exponentially. Like a traditional painting the work will always have a support, but might as equally be fixed to the ceiling as the wall, often spawning smaller fragments across the exhibition space.
Rebecca Stevenson will show new works from a series of monumental wax heads. In these pieces, the conventional form and meaning of the portrait head is subject to a variety of transformations. The possibility of reading the object as the likeness of an individual is deliberately disrupted by the exposure of interior layers and cavities. Marble–smooth countenances are encrusted with deliciously sugary coatings; noble brows break out in a riot of sweetshop colours; chiseled features are corrupted by outbursts of delicate, petal–like forms. This carnivalesque unraveling is at once wild and specific. The boundaries of the object are no longer fixed, but mutable and hard to define. The portrait head is exposed as a shell or mask, and a new set of meanings, that might be termed visceral or sensual, is revealed.
Haris Epaminonda graduated from the RCA in 2003 and has shown in group shows internationally, including the Salon de Montrouge, Paris, a solo show earlier this year at the Staffollini Gallery, Nicosia, Cyprus, and 'The year of France in China' ('Fraicheur de Vivre' BizArt Art Centre/Shanghai) alongside the Shanghai 5th Biennale, curated by Michel Nuridsany. She has been selected for the 12th Biennale for Young Artists from Europe and the Mediterranean in Naples, Italy in September 2005. She will show work at Artissima 11, Turin this November.
Neal Rock graduated from Central St Martins in 2000, since when he has exhibited widely. Two recent solo shows include 'Work from the Polari range' at fa projects, London in 2003 and Henry Urbach Architecture, New York, earlier this year. Recent group shows include 'Temporary Fiction' at Transition, London and 'Expander' at the Royal Academy, London.
Rebecca Stevenson graduated from the Royal College of Art in 2000; she has exhibited widely in group shows, at VTO, Palazzo Forti, Verona, Orion Gallery, Ostend, Belgium, Group Show and Cardboard City at Leisure Club Mogadishni, Valby Denmark. Her first solo show was at domobaal gallery in July 2002, she will have a solo show at Leisure Club Mogadishni, Denmark in May 2005. She will also show new work at Artissima 11, Turin Italy in November.