Daniel Gustav Cramer: Woodland (Trilogy Part One)
16.10.04 – 20.11.04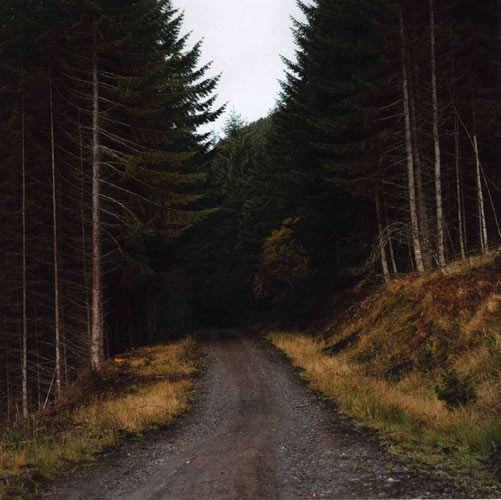 Domo Baal presents Daniel Gustav Cramer's first London solo exhibition, which is accompanied by an extended essay written by Jonathan Miles for this body of work, published by domobaal editions.
"This is an art that contains its own reserve. Its pulse is slow; its visual rhythm is sustained within this reserve that beckons us to follow its inward trail. Flickers of sight suspend in dew, shadow is held in recesses, a stilling announcing its coming and then a breeze awakening the order of leaves again. All might be the gentlest manifestations of the visible, and yet a more tumultuous uprising is contained within these things. These photographs were taken in a manner that opens an unexpected encounter between care and vision. This is a mode of primal dialogue captured between the slowing of breaths as they hang within the dappled light that picks out the tiniest events that mark a moment. Hegel wrote in The Science of Logic that "pure seeing is a seeing of nothing," and it is within this seeing of nothing that the tumultuous arises."
Jonathan Miles, extracted from 'Vapours Forests: The Art of Daniel Gustav Cramer' London, October 2004, published by domobaal editions.
Daniel Gustav Cramer was born in Neuss, Germany in 1975 and studied in Cologne and Münster, Germany. Since receiving his MA at the Royal College of Art, London in 2003, he has been selected for Bloomberg New Contemporaries (2003), Arrivals (2003) at the Pump House Battersea (selected by Charlotte Mullins), Junger Westen (2003), Kunsthalle Recklinghausen, Recklinghausen, Germany and The Guardian Hodge Photographic Award 2003 Guardian Newsroom, London and Le Salon de Montrouge, Paris. 'Woodland' will be his first solo exhibition. Domo Baal will also be exhibiting photographs from the 'Woodland' series at Artissima 11, Turin Italy 5–7 November.