Paula Mettler Tucakov: Vis à Vis
13.09.01 – 06.10.01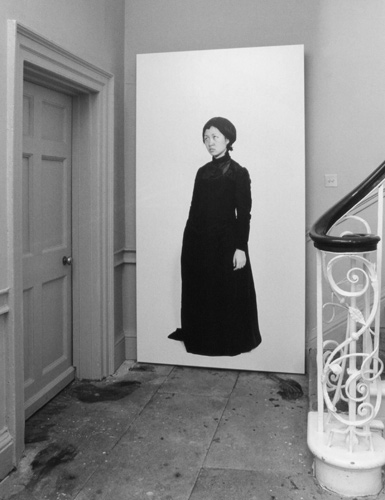 Paula Mettler Tucakov's work explores the role of the photograph as both a trigger and a distortion of memory. The act of posing is celebrated in a series of monumental photographic portraits. The series of works are results of academic and studio based research, investigating the photographic document. The artist has looked at images from the early stages of photographic history and investigated the role of the photograph as both a trigger and a distortion of memory.
In this project the artist deliberately manipulates the viewer to accept a notion of repeatability by transforming the incidental, momentary character of an individual school group photograph into a template. The source photograph, taken in Switzerland in the 1880's, becomes a stencil that suggests a structure for the act of posing itself, which in turn seems to recreate the un–repeatability of the original moment.
A significant characteristic of the original photograph was that each of the subjects had a different and distinctive pose. The artist invited friends to re–enact the original material and in doing so remodel the photographic memory as recorded by the original photographer. Taken out of their group context, the individual figures appear to disperse and inhabit the exhibition space in a strikingly contemporary manner yet remain essentially a group.
"Only Paula Mettler's larger–than–life black and white portrait photographs have much impact in the glare of the gallery. Showing modern–day women in the poses found in a late 19th Century school photograph, they play with the notion of history as a game of staging or dressing–up, while somehow insisting on their own authenticity." (Art Review, 3/2002) review by Charlotte Edwards of 'Showhouse' at PM Gallery & House, London W5, which included five works from Paula Mettler Tucakov's Vis à Vis.